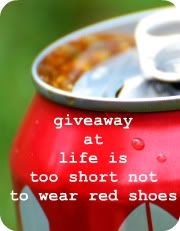 One of the many ways to enter this giveaway is to make a post about your bucket list. Hence dis post. :)
Some things I want to do before I die:
Learn to speak Dutch fluently.
Publish a book (or a few. :)
Own a rat and/or hedgehog and/or basset hound.
Ride a ferris wheel. (I know, I know. I haven't done this yet?? Shocking.)
Visit tons of countries. Including Holland, Indonesia, England, New Zealand, etc. etc.
Hold a monkey. :)
Milk a cow. Yes, that
is
on my bucket list.
Go to a really professional ballet performance. *swoon*
Read 100 or more books in one year.
Have a swing, hammock, slide or fireman's pole
in
my house.
Watch a meteor shower.
Ride in a convertible or a rumble seat.
Sleep out under the stars.
...
Fulfill my purpose.
Ephesians 2:10
For we are God's handiwork, created in Christ Jesus to do good works, which God prepared in advance for us to do.
It's exciting to know I've been made for specific things. I wonder what they could be??
What's on your bucket list? I'd love to compare them, and see if I've done any of the things on your list!
Feel free to comment some of the things you'd like to do, or if you enter this giveaway I'd love a link to your post!